Introducing…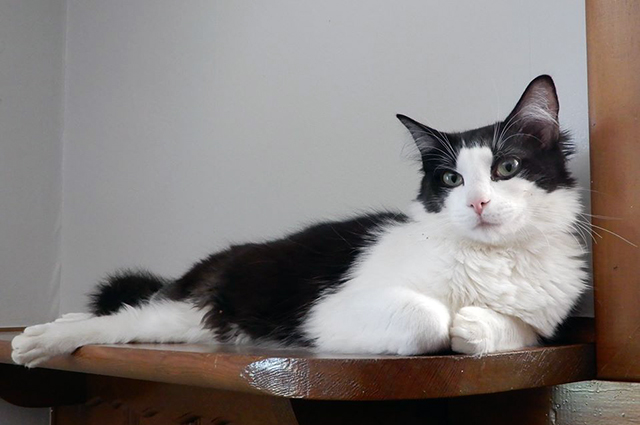 Hello, readers! Today we are starting a new feature in which we introduce one of our shelter kitties. We're going to shoot for an introduction every month or two.
Let's begin with Batman, shall we? And if you feel the urge to hum the theme music from the 60s TV show, go for it!
While our Batman may not be fighting crime in Gotham City, he certainly is our Caped Crusader of Cuteness! Without further ado, meet Batman:
Meow, everyone! Let me tell you a little about myself.
I am a bundle of floofy, black and white fabulousness, with bright yellow-green eyes, a pink nose, and whiskers that are to die for.
One of my most favorite things ever is being brushed. Just call me: "Batman! Brush!" That will do it. Really! I will come running from wherever I am just to be brushed. I will watch you closely and wait for you to sit down with the brush and then I will be by your side as quickly as my paws can get me there. Brush the top of my head, brush my back, brush my cheeks (yes!), brush my tail. And be sure to brush my tummy, please! It's true! I love to have my tummy brushed. And while I am being brushed, I will express my pleasure with a rumbling purr and synchronized paw flares.
I share shelter space with three other kitties who are all gray and white. (They just happen to be my brother and sisters!) I am the only black and white kitty in our group and that makes me very easy to spot. Of course, quite honestly, my sweet temperament makes me a standout in any crowd.
I also like to play with toys that wiggle and move quickly. My eyes flash and I concentrate, waiting for the precise moment to pounce. My other favorite things are kibble and sun puddles. Sun puddles are the best. After I have been brushed and am totally relaxed, I like to plop down in a sun puddle to take a well-deserved nap. And speaking of naps, I feel another one coming on, so I'd best be off. Things to do! Purrfect nap spots to find! I hope you have enjoyed this short story of me, Batman!